Meet Lucy Chee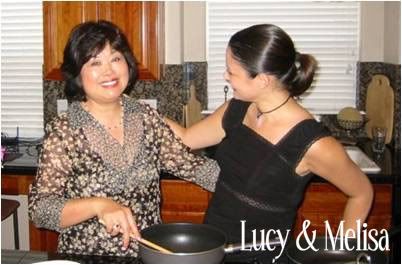 "I was born in Xian, the ancient capital city of China. My father, Chee Ta Peng, was senior aide and confidant to President Chiang Kai-shek. In 1949, when the Communists were about to defeat Chiang's Nationalist government, my father fled with our family of seven to Taiwan.
My parents died when I was still quite young, and I was sent to a girl's boarding school, which served very dull meals. Our family often ate in restaurants during the holidays. As a result of this exposure, I became interested in how different foods were prepared. During vacations I stayed with my older half-sister who was an excellent cook. I helped her prepare dinners , and gradually I began to create my own recipes."  – Lucy Chee McHale, The All-American Chinese Cookbook, 1980
How I Met Lucy
Lucy Chee and I met in Washington DC while she was attending the Corcoran School of Art. I was working at the Washington Hilton.
I received a "coveted" invitation to one of her "famous" dinner parties (possibly by mistake) and jumped at the chance to get to know her better. Up until that time, my only exposure to Chinese food had been Chow Mein, which I have since learned is purely an American concoction. As I recall, there were a dozen dinner guests in her cozy apartment. I do remember, with certainty that there were 12 dishes served piping hot, fresh from Lucy's magical wok. She was impressed by how I took the time to slowly savor each dish. Little did she know that it was my first attempt at chopsticks and I was starving to death!
Skip the mushy stuff (romance, not food) and fast-forward a few years to Omaha, Nebraska. Lucy and I were now married and expecting our first child, our dear daughter Melisa. Hilton had transferred us to this western outpost where Chinese culinary ingredients were about as easy to come as unrestricted Internet access in Beijing. Thus, the "seed" of an idea was planted.
Transferred again to San Francisco, Lucy was thrilled to have at her disposal the finest of Asian ingredients. However, recipe requests continued to filter in from friends and acquaintances on the East Coast and the Mid-West. Pregnant with our second child Jason, Lucy set aside her art projects to concentrate on cooking. Thus, the seed sewn in Omaha grew into the publication of the first All American Chinese Cookbook!
If you liked #1 you will be thrilled with the online version of AACC 2. If you never heard of #1 you will like #2 even better!!          – Dan